We exchange views in a confidential atmosphere and address issues about birth.
The presence of the intercultural interpreters allows the expectant mothers to gain a deeper understanding of what they know from their country and what they are experiencing here in Switzerland about the birth.

As part of mamamundo's classes, as well as providing information, we focus on and physical exercises. The exercises we do support physical and mental well-being during pregnancy. Stretching and movement can ease pregnancy discomforts and simple breathing exercises enable (deep) relaxation. Practical exercises prepare for childbirth.


Topics

Development of your unborn child, nutrition, healthy behaviour, pregnancy care, relieving physical discomfort, bonding with your unborn child.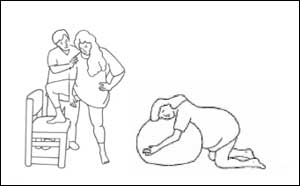 The process of birth
Beginning of labour, hormones, the phases of birth, support, coping with labour pains, the female body's abilities, different types of birth.
Breastfeeding
Nutrition for the child, producing milk, breastfeeding patterns, methods on latching on, nutrition for the mother.
At home with your child
Sleeping patterns, the needs of the newborn, care, professional services, support in the home.
The couple's needs during the delicate postnatal period
Mental health, social resources/support, relationships, sexuality, contraception.
Meeting after the birth
This meeting allows the women to talk freely about the birth, their joy, their fears and their disappointment. Questions are discussed about their experiences as a young family. It is an opportunity to meet the newborns, celebrate the new families and evaluate the course.