In Mamamundo's courses, we take special care to spend all the time we need listening to your concerns and trying to answer your questions, with special respect for your cultural background.
As we provide an interpreter, future mothers can reflect on and discuss what they know about childbearing in their native county and what they are experiencing here in Switzerland.

As well as information and exchange, we focus relaxation and bodily exercises. These exercises (breathing exercises, for example) support physical and mental well-being during pregnancy and can also ease pregnancy-related discomfort. Specific exercises help participants to prepare for the actual process of birth.

Topics

Development of your unborn child, nutrition, healthy behaviour, prenatal care in Switzerland, relieving physical discomfort, your relationship to your unborn child.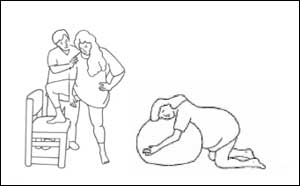 The process of birth
Beginning of labour, hormones, phases of the birth process, support, handling labour pains, the resources of the female body, natural birth, caesarean section.
Breastfeeding
Nutrition for mother and child, the production of mother's milk, the rhythm of breastfeeding.
At home with your child
Sleep rhythms, the needs of the newborn, handling and care, professional support in the home.
Needs during the sensitive time following childbirth
Mental health, social resources/support, relationships, sexuality, contraception.
Meeting after the birth
This meeting enables participants to share their experiences—their joy and happiness, as well as their fears and frustration. There's room to discuss their experiences as a young family, to celebrate the arrival of the newborns, and to evaluate the course itself.